DDescriber plugin for Jasmine.
The DDescriber for Jasmine is an idea plug-in to simplify unit testing in Jasmine (http://pivotal.github.com/jasmine/).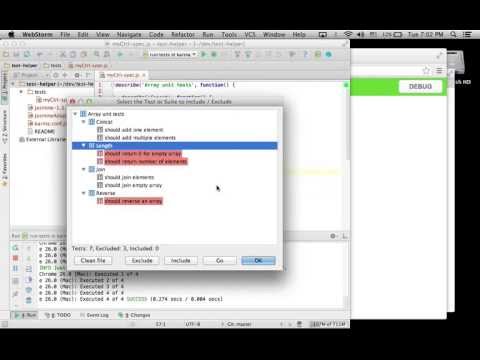 With the plugin you can quickly change a describe() into a ddescribe() / xdescribe() and an it() into an iit() / xit() to make your test runner, such as Karma or JSTD, run a specific set of suites (describe()) and unit tests (it()).
You can launch the dialog by pressing Ctrl SHIFT D (Command Shift D on a Mac).
The dialog has the following features:
Change a single describe() or it() by hitting Enter or clicking on the OK button.
Start typing to search the list.
Hit Enter on the currently selected test or suite to transform it / revert it into and iit() and ddescribe()
Click Clean file (Alt C) to clean all the ddescribe() / xdescribe() and iit() / xit() in the current file.
Click Exclude (Alt X) to exclude a suite (xdescribe()) or unit test (xit())
Click include (Alt I) to include a suite (ddescribe()) or unit test (iit())
Click Go (Alt G) to jump to the currently selected test.